We have a selection of quality family events to keep the kids enetertained all Summer long here at the Redgrave.
Tuesday 19th to Thursday 21st July
Oliver Twist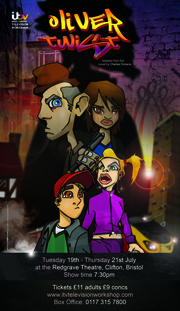 'It's 2016. Same story, different time.
This brand new version of the classic tale of the orphan boy Oliver, has been adapted from the original text by Charles Dickens.

The action has moved from Victorian England to present day. The world has moved on, the industrial revolution has been and gone, two world wars have been fought and won and technology is dominating our lives - but how much has really changed?
The current Childcare System has chewed 10 year old Oliver up and spat him out. He has escaped the clutches of Mrs Bumble and the East Side Children's Home as well as a brutal Foster family. But now he finds himself the new boy in Fagin's gang. The toughest gang in the city.
Out of the frying pan into the fire...
All Oliver wants is to find a family who will love him. Is Fagin's gang the place for him? Or will the dastardly Bill Sykes put pay to that? Will the Social Worker Miss Shallcross ever track Oliver down and find him a family? Or will he be sent back to the arms of the evil Mrs Bumble and the East Side Children's Home?
Follow this iconic dark and tragic tale, as Oliver desperately tries to overcome all his obstacles and fulfil his dream of finding a home.

Performed by a cast of over 50 actors from ITV WEST Television Workshop, this updated epic tale brings the classic story kicking and screaming into the 21st century.

The ITV WEST Television Workshop is a training resource for anyone over the age of 5 who wants to gain the skills and experience to act for TV, Film, Theatre and Radio.

0844 8812461 www.itvtelevisionworkshop.com
Saturday 23rd & Sunday 24th July
The Ruff Guide to Shakespeare
Commemorating the 400th anniversary of his death, Ruff Guide tells the tale of William Shakespeare (Well, what we know of him!) Seven actors from The Bristol Old Vic Theatre School will take you on a journey through his life, his plays and the Elizabethan stage. Designed for all the family, this is an inclusive show with audience participation. So, expect some silly songs, daft dance routines and some of his most famous speeches as you learn all about... The Greatest Playwright of All Time!
Suitable for Year 2 and above.
Monday 1st August
Bad Guys
Little chaps, BIG trouble.
Derek, Ernie & Dick are really bored of being good. It's just GOT to be more fun being a baddie. But being an evil scientist, pirate or cowboy is trickier than they thought. Can the bumbling brothers learn how to stay out of jail and be real Bad Guys?
Join Comedy Club 4 Kids & CBeebies stars the Three Half Pints as they trip and stumble their way through a brand new comic misadventure, packed with songs, slapstick, silliness and accidental derring do!
Perfect for families with children aged 5-11.

***** "The Three Half Pints dazzle" - Three Weeks
**** "your cheeks will hurt from smiling so much" - Broadway Baby
Wednesday 3rd August
Lazy Town Live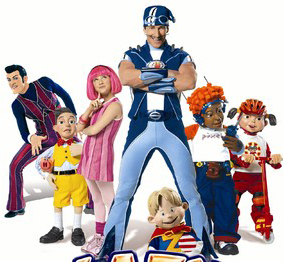 Go, go, go, get up LazyTown – enjoy a non-stop, highly-interactive and energetic treat, jam-packed with singing, dancing, spectacular acrobatics, music and fun.

Currently on Cartoon Network's Cartoonito and Channel 5's Milkshake, LazyTown is a hit all over again with a brand-new generation of boys and girls.

And, in this brand-new, stage show adventure, Robbie is at his rottenest worst while Sportacus has to be at his athletic, super-active best – running, jumping and flipping to save the day. Stephanie and Ziggy also star as a mix of music, movement and humour engages, entertains and motivates children to make healthier choices in their everyday lives.
Sunday 14th August
Marty MacDonald's Toy Machine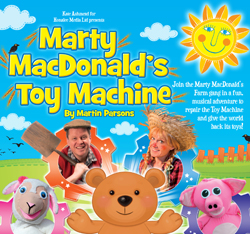 Featuring the voices of Justin Fletcher and Nicole Davis from CBeebies as Pongo the Pig and Molly-Moo the Cow, MARTY MACDONALD'S TOY MACHINE has been a hit with family audiences since 2016!
"Everyone at Marty MacDonald's Farm should be delighted with the special delivery that's arrived – the Toy Machine that makes all of the toys in the world!
But Crafty the Crow has been up to mischief and it shouldn't really be there at all. Worse still, the machine has stopped working, so they need to fix it before the Toymaker comes to get it back!
Join the farmyard friends in a fun, musical, interactive adventure to repair the Toy Machine, save the day and give the world back its toys!"
Songs include: Head, Shoulders, Knees And Toes, The Wheels On The Bus, Mary, Mary, Quite Contrary, The Grand Old Duke Of York, I Am The Toy Maker, The Hokey Cokey, Old MacDonald Had A Farm and many more!
Marty MacDonald's Toy Machine is a family show most suitable for 2 - 7 year olds and includes our popular cast meet & greet after the performance!